ALTRA-SEAL PANEL SYSTEM

An Insulated Sliding Panel, For The Best Air Seal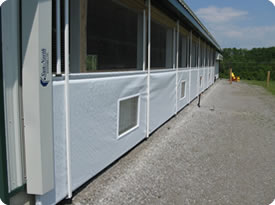 Altra-Seal is a lightweight continuous rigid panel which slides over sidewall openings on livestock housing.
The outer sleeve is a polyethylene weave and the core is 2 ½" (6.35cm) high density styrofoam. The Altra-Seal system can be operated by electronic thermostats, actuators or manually by a hand winch. Altra-Seal is suitable for all types of livestock and can be custom designed to your individual specifications.
Lower noise and dust levels will reduce stress on both livestock and workers. Due to the unique construction of this product, drafts and air leakage are virtually eliminated.
This panels offers a continuous seal which makes it the perfect choice for a dual ventilated barn. Option for windows in panels is available.
Continuous length up to 100ft (30.5m).
Various colours and weights are available.
Altra-Seal can be used on parlours, tie stalls and calf barns.
Windows can be installed every 8ft (2.4m).