ORIGINAL TOP DOWN CURTAIN SYSTEM

A Simple & Cost Efficient Curtain Solution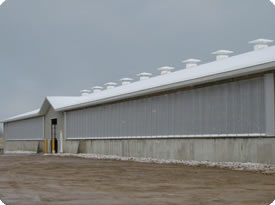 This curtain system is the simplest and least expensive. The curtain is permanently fastened along the bottom of the wall opening and then lowered (opened) from the top by a cable system using either a hand winch or power actuator. By opening the curtain from the top it forces the cooler air to enter high up along the sidewall which avoids severe drafts on your livestock.
Fold down is our standard barn curtain system.
As the curtain cables down from the top, it folds down accordian style to the bottom sill.
Can be operated manually or automatic to suit your cow comfort needs.
For sidewall opening heights up to 8' and widths up to 200'.
Pressure treated 2x4 at bottom of opening acts as a shelf for summer storage.
Manual and automatic options are available.
Wind pipe or wind rope supports every 4' o/c.