NO-MAIN CURTAIN SYSTEM

No Main Cables - Minimal Maintenance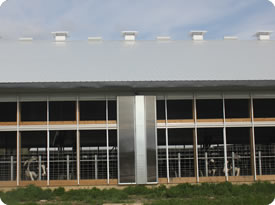 The all new No-Main Curtain is the lowest maintenance curtain on the market and operates without the use of a main cable. The No-Main system is very popular with farmers with large sidewall openings and long barns. Curtain systems can be arranged in a number of different configurations, catering to a wide variety of building and ventilation setups.
No main cables.
Systems designed for large dairies.
Low maintenance.
A variety of curtain material types and weights are available.
Manual or electrical operation.
Temperature controllers available for fully automated systems.
Corrosion resistant hardware.
Easy installation.
Single output maximum length - 144'.
Double output maximum length - 250'.
Opening height of 2' up to 24'.
Works on any type of structure, steel or wood etc.