CEILING FAN VENTILATION
ALTRA-AIR HVLS CEILING FANS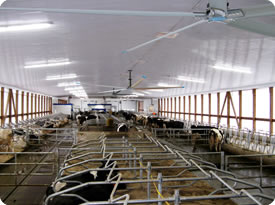 Livestock adapts well to relatively consistent cold or hot conditions. Production is affected when there is a repetition of abrupt temperature swings. Properly designed ventilation will moderate or eliminate the abrupt temperature swings offering the animal the sensation of cooling under hot conditions and warming under cold conditions.
One of the great recent innovations in livestock ventilation is the very large (up to 7.5 meter diameter) HVLS ceiling fans.
Sun-North's sister company, Envira-North Systems manufactures the Altra-Air series of ceiling fans.
This technology means the 7.5m Altra-Air fan moves 395,000 cfm over 60 to 70 ft area, which is much cheaper and much more energy efficient then multiple box fans as seen in many barns hanging from posts and ceilings. The Altra-Air fan slowly moves and mixes massive amounts of air creating a more homogenous ambient climate for all forms of livestock. The animals sense an overall breeze, not an evasive direct blast of air. These very large Altra-Air fans draw the warmer air from the upper ceiling areas mixing it with the lower regions of air moderating temperatures. Farmers also notice a significant drop in flies along with much dryer manure packs and alleyways due to this overall air movement.
ABSOLUTE AIR FANS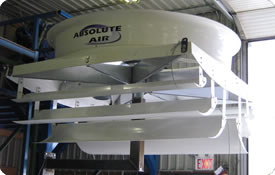 With some barn and livestock facilities, alleyways and resting areas are restrictive and the Absolute Air equipment can solve the ventilation needs of these conditions.
Absolute Air is belt driven and of fibreglass and aluminum construction. Absolute Air has high and low speed selectors and is able to move 80,000 cfm over an area of 600 sq. meters. It is complete with 6 adjustable air flow deflectors.